The project is led by Christian Albrekt Larsen, Thomas Bredgaard, Henning Sten Hansen, Mette Buchardt and Trine Lund Thomsen, representing the five involved research groups.
Overall decisions will be made at five annual management meetings. The day-to-day management will be conducted by Christian Albrekt Larsen, and secretarial functions will be taken care of by Berit Klitgård Jacobsen at the Department of Political Science.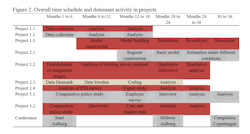 Figure 2 (Click to enlarge image)
Monthly FLOW meetings for all participants will be held (in physical and virtual meeting rooms). The close coordination between projects within the same Work Package will be carried out by Henning Sten Hansen (Work Package 1), Trine Lund Thomsen (Work Package 2) and Mette Buchardt (Work Package 3). The overall time schedule including dominant activity appears from Figure 2.
Newly employed postdocs are employed at the relevant department. In HR matters, they are responsible to the head of department, and in academic matters to the involved research group at their department. Postdocs are placed together physically in bases in Copenhagen and Aalborg, respectively.
FLOW is monitored by an interdisciplinary international expert panel consisting of Professor Claudia Diehl (Germany), a leading migration sociology researcher, Professor Pauli Kettunen (Finland), who has been the leader of a European FP7 project on immigration and welfare states and Professor Peter Marcotullio, (USA), a leading geographer within climate change and migration. A meeting between the management group and the expert panel will be held in Copenhagen every year.
In order to help convert the project's research results into practice and to identify more effective integration efforts, a panel of stakeholders will be established, led by Thomas Bredgaard, who has extensive experience with the involvement of external partners. Panel members are the most important actors in the area of integration, such as the Danish Agency for International Recruitment and Integration, Local Government Denmark, the Confederation of Danish Industry and the Danish Refugee Council. The panel will meet with the management once a year.
Internal drive: https://aaudk.sharepoint.com/sites/flow